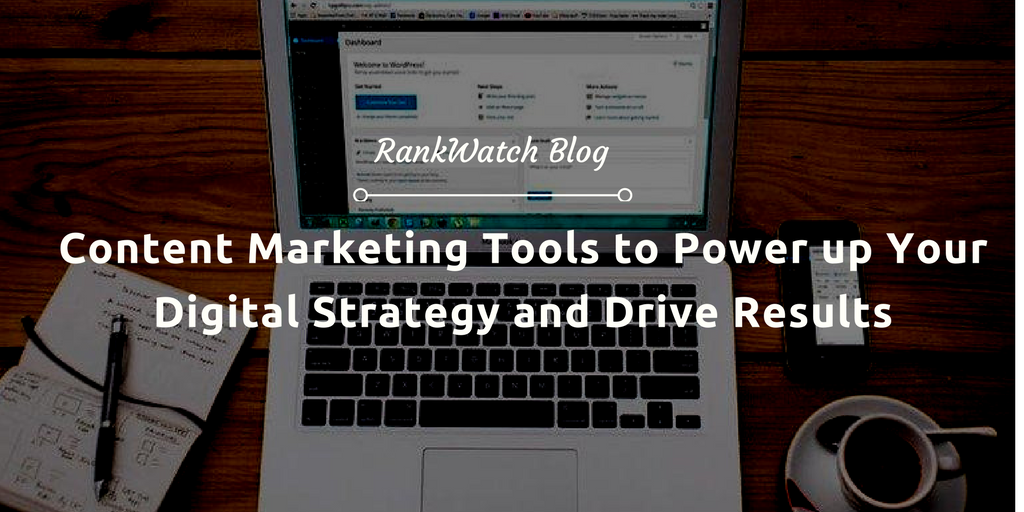 The dramatic changes in consumer demands and the rapid development of technology force businesses to adjust how they communicate with their customers. Consumers and their needs today are way different from just a few years ago – turning the traditional consumer and buyer relationship upside down.
Content marketing focuses on creating valuable and relevant content for a target audience. Businesses across all industries are realizing that quality content is key in sustaining a long-lasting digital presence and that it's an integral element of any successful marketing strategy.
So, what tools are readily available to use to effectively amp up your content marketing for the rest of 2017 and the new year ahead? Whether you're just starting out in content marketing or looking to revamp your content strategy, get ahead of the competition and take advantage of these options to enhance your content marketing efforts today!
1.Tools for Content Discovery and Creation Ideas
Reddit
If you want to see what the latest trends and topics are worldwide, Reddit is the perfect place to look. You can get insights into various topics and discussions your customers and audience may be interested in. The massive amount of content on this platform, helpfully categorized by niche subreddit communities, provides an endless number of topic options for your next piece of content.
Quora
Quora is a social media platform that is a great place to discover what kinds of questions are being asked around in any industry. The platform strives to connect people who can share ideas and perspectives to share and gain knowledge through question and answer discussion posts. Quora is a terrific place to go to when you need some inspiration for trending content ideas.
Almighty.Press
Almighty.Press is a great tool to be used to discover trends before they go viral. This platform uses its Almighty Force algorithm to monitor, analyze and sort through the mass of existing world news in real time. Stay ahead of the competition and be the very first to create and publish content for trending topics before they go viral with Almighty.Press.
2.Tools for Content Marketing Automation
HubSpot

HubSpot is a comprehensive inbound marketing system that manages marketing, CRM, and sales all under one roof. This platform also allows you to schedule and automate postings and content with your team on your social media accounts. It provides insightful data into your digital efforts and is a great tool for businesses that want to effectively increase traffic, convert leads, and track their performance and ROI.
Pardot
Pardot is a B2B marketing automation tool that supports marketers and salespeople as they work to drive leads and move prospects through the sales funnel. This platform offers tools that can be used to create automated messaging, access ROI reporting, manage seamless sales alignment, and ultimately drive revenue for your business.
Infusionsoft
Infusionsoft is a marketing and sales automation software that helps small businesses capture leads, drive conversion rates, optimize their e-commerce experience, and manage the sales process. Infusionsoft allows you to automate postings and content to save time.
3.Tools for Social Media Management
Buffer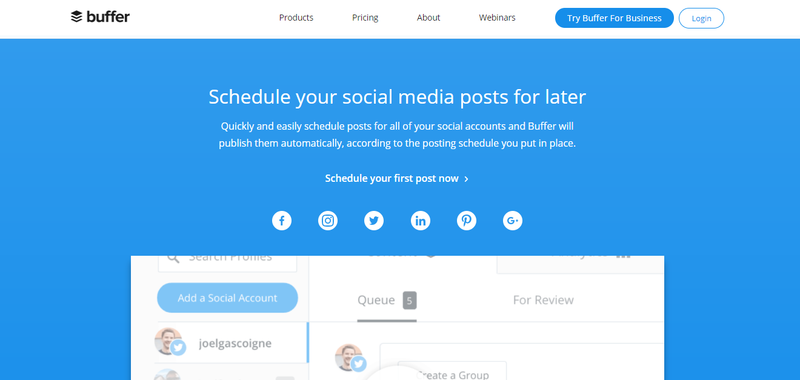 Businesses can connect all of their social media accounts into one central platform and schedule content accordingly with Buffer. Buffer is a great tool to efficiently manage and streamline all of your social media efforts and track engagement metrics. With their analytics and metrics, you can determine the optimal times to post content for better reach and engagement from your audience.
Hootsuite
Hootsuite helps you manage all of your social media accounts in one place and allows you to automatically schedule content to be posted on your social networks. With this tool, your brand is able to save time and allocate it better for other tasks and accurately attribute your social ROI.
Ninja Outreach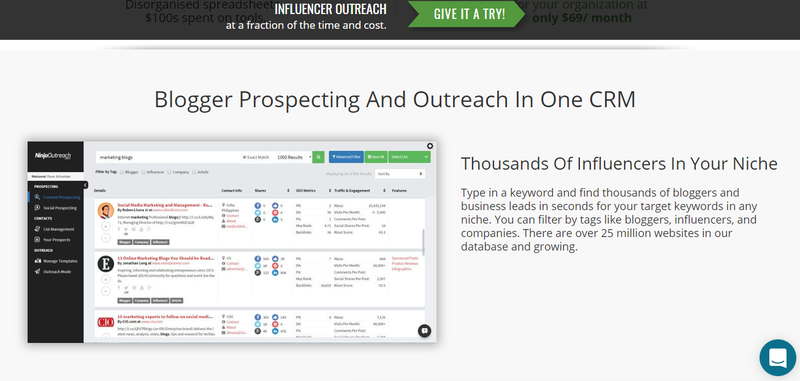 Influencer marketing is a powerful way to promote and share your content with audiences you may have never been able to reach before. Ninja Outreach is a great way to find and connect with influencers that are able to favorably represent your brand through social media and other digital channels. This all-purpose influencer marketing tool supports various marketing duties such as lead generation, link building, and cold emailing.
4.Tools for Website Analytics
Simplereach
Simplereach collects and measures data across your website and social channels in real time. You can consolidate all of your brand's content data under one single platform with this tool. Simplereach can provide actionable insights into which content and channels are producing real results to improve your content creation and distribution strategies.
Parse.ly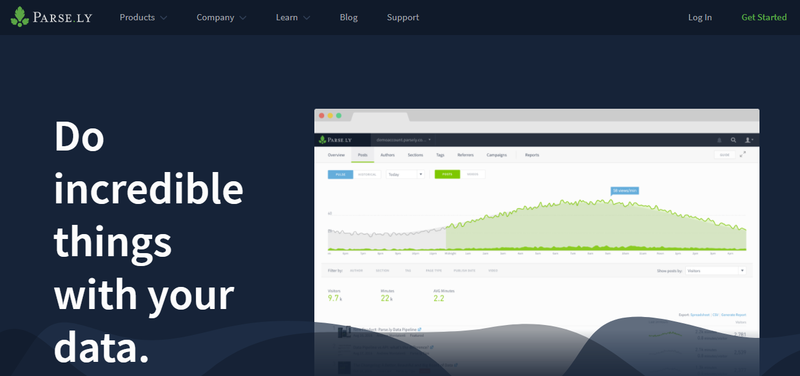 Parse.ly works to help businesses improve engagement with their digital audience with insightful data and analytics. This platform includes data-driven products and features including an API, content dashboard, and data pipeline to help companies better understand and ultimately improve their digital strategy.
Webtrends
Webtrends hosts a suite of tools to provide analytics for SharePoint, drive conversion, and present A/B multivariate testing. These features focus on helping businesses understand their customer data to effectively measure and optimize their digital campaigns. This platform uses technology to provide actionable insights to help companies drive customer engagement and ultimately boost their bottom-line and drive revenue.  
5.Tools for Email Marketing
GetResponse
GetResponse is an email marketing program that primarily focuses on growing your business's lists, driving conversions, and optimizing audience engagement. You can also this tool to create landing pages and webinars, and manage customer journeys through their marketing automation feature.
MailChimp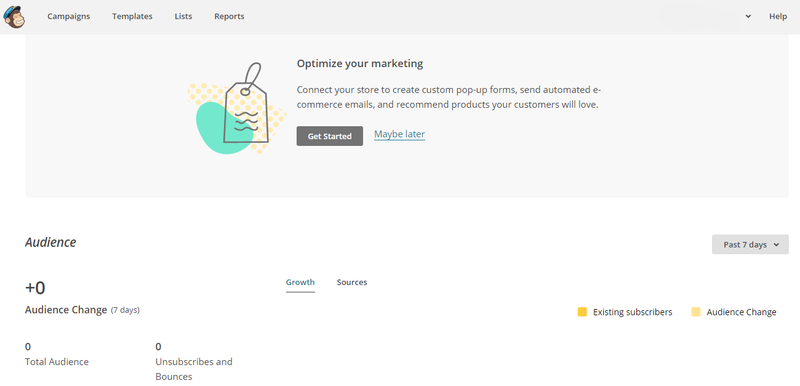 MailChimp is an email marketing platform that helps businesses reach new customers and effectively grow their brand. It helps you connect and communicate with your customers, all while saving time. Automating emails through MailChimp allows you to better focus on the quality of your content that you plan on distributing to your customers and subscribers.
Conclusion
While you don't necessarily have to use these tools to see favorable results from your content marketing efforts, they will certainly make your efforts a lot easier and alleviate the pressures of mundane tasks that can take up a lot of your time.
A majority of these tools offer automation services, allowing you to save the most valuable resource – time – to better focus on creating superior quality content. While you may not find every single one of these tools to be beneficial for your business's goals or objectives, a few of them can be combined to create a powerhouse to support your content marketing strategy.
However, remember that these tools are essentially pointless if your brand does not create quality content. Any type of tool that supports one's content marketing efforts were designed to enhance good content, not substitute for it.
Compelling content is the starting point and the core foundation of any good digital marketing strategy, so be cautious not to neglect it. Build a content marketing strategy that focuses on delivering valuable and relevant knowledge to your target audience, and you will see that your performance only heightens with the use of any of the tools mentioned above.