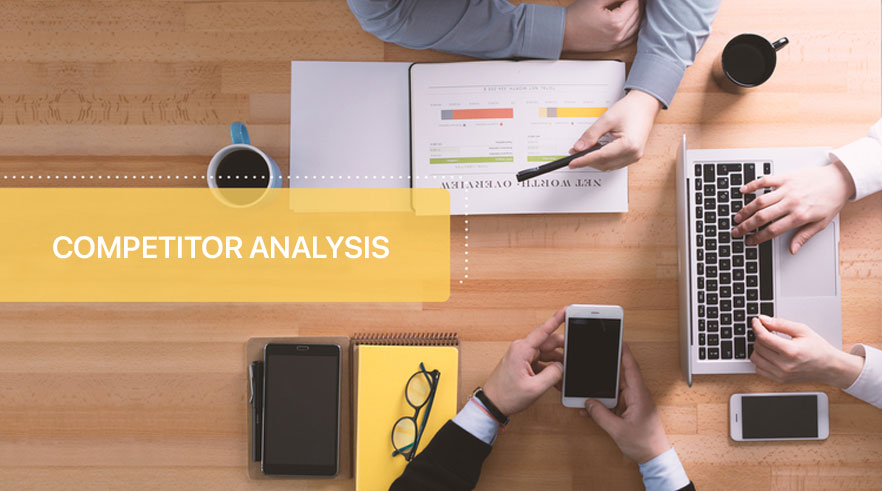 Competitor analysis is an absolute necessity for every website to thrive in its niche and stay on top. If you are unaware of your competitors' performance or their strategies, it is evident that they will outrank you soon. And you wouldn't want that to happen, right?
So, to help you stay ahead of your competitors here's a complete breakdown of how you should start analyzing your competitors using RankWatch.
But first, let's do away with the basics (Don't worry! I'll keep it brief).
Why do websites perform competitor analysis?
Competitor Analysis helps you:
Learn about your competitors' weaknesses and leverage them for your benefit.

Learn about their strengths and use them for your brand.

Gauge the ranking difficulty in your industry.

Gain deeper understanding about their SEO techniques/strategies.
Bottom Line: Competitor analysis is your one-way ticket to stay ahead of your rivals in the industry.
Although, before that, you need to determine who are your competitors?
Note: For this walkthrough, I will be running Competitor Analysis for Crackitt.com.
How to identify your top competitors?
Having knowledge about the sites you are competing with is your topmost priority and picking the right competitors is another primary concern.
If you pick and study the wrong competitor, then you'd start optimizing for the wrong keywords and prepare strategies which will lead you further down in the SERPs. 
The Competitor Analysis module by RankWatch will compile all your competitors for you and categorizes them into paid and organic (up to 20 each).
Top 20 competitors who are following On Page and Off Page SEO techniques to rank higher in the SERPs are listed under this category.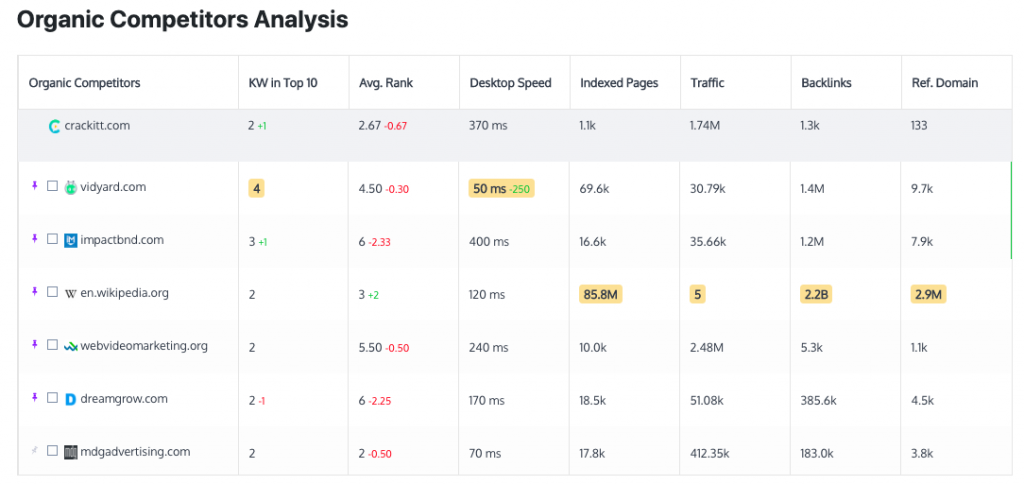 The competitors against whom the numbers are highlighted represents the one who is leading in that particular field. For instance, Vidyard has the fastest Desktop Speed of 50 ms amidst the rest of the competitors.
Under this category, you'll find the top 20 competitors who are running ads on Google.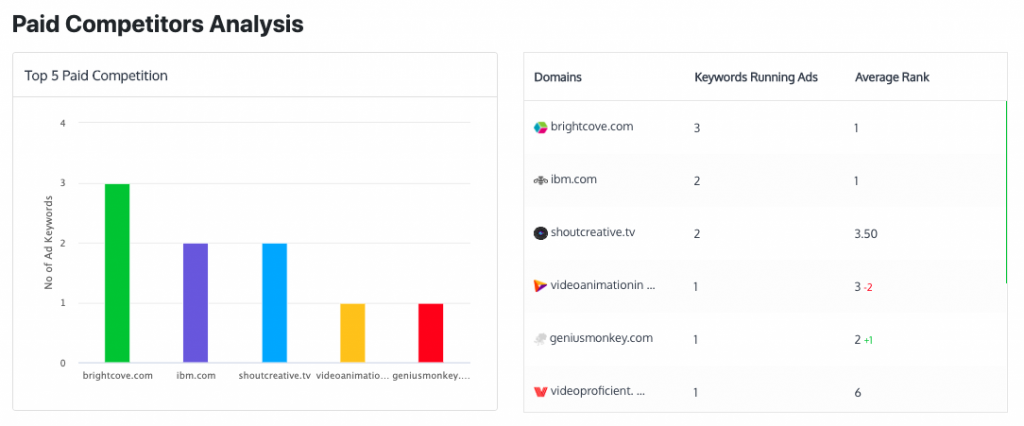 Determination of these organic and paid competitors are done through RankWatch's own algorithm. It examines the keywords for which a site ranks and also, their backlink profile. However, if you want to add competitors manually, you can do that by clicking on 'Add Competitors' located on top of the competitor dashboard.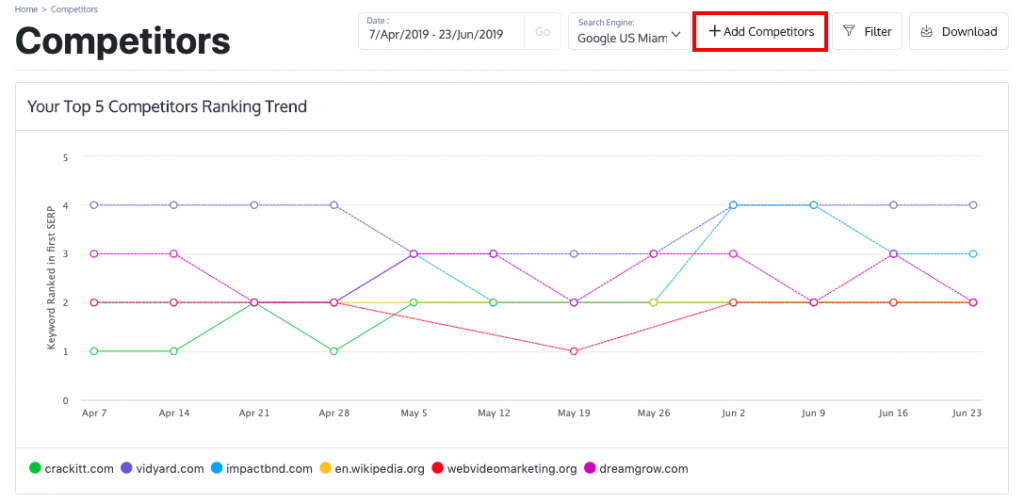 This triggers a pop-up where you need to add the competitor's URL and press 'Add'.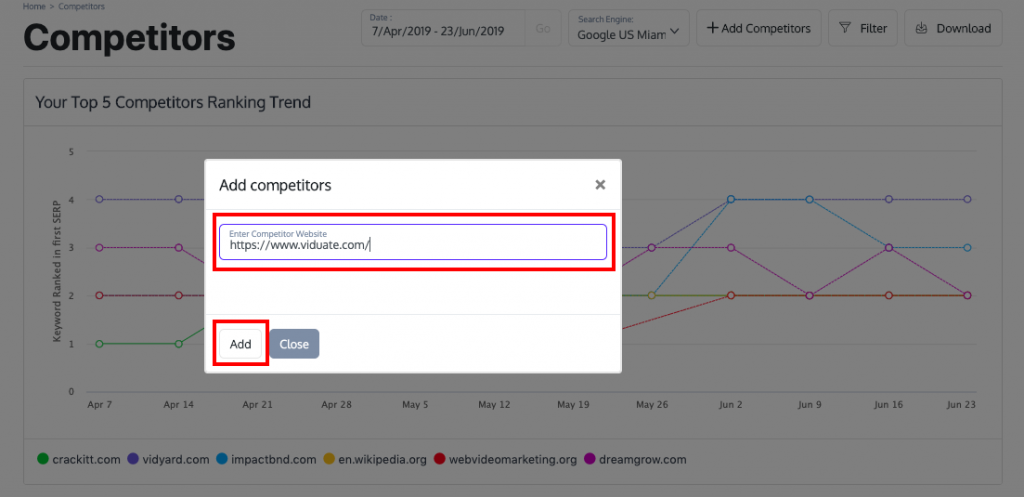 This will add the competitor to the module's database with the 'Manual' tag.

Also, you can see that the site was added to the Organic Competitors list and not the paid competitors list. This means that Viduate is not running any Google ads; if it was, then it would be added to the Paid Competitors list as well.
Beginning with competitor analysis
With RankWatch Competitor Analysis, you can track all your competitors and compare and analyze them based on two broad metrics: Ranking and Backlink.
1. Competitor Ranking Analysis
Knowing about the current ranking status of your competitors can open doors to abundant amount of data that is yet to be utilized.
For ranking analysis, open Competitor Dashboard and choose the competitors (up to 4) with whom you want to compare keyword rankings (as per your discretion). Then, choose 'Rankings' and click on 'Go'.

This will lead you to the rank comparison page analyzing your domain alongside the 4 selected competitors.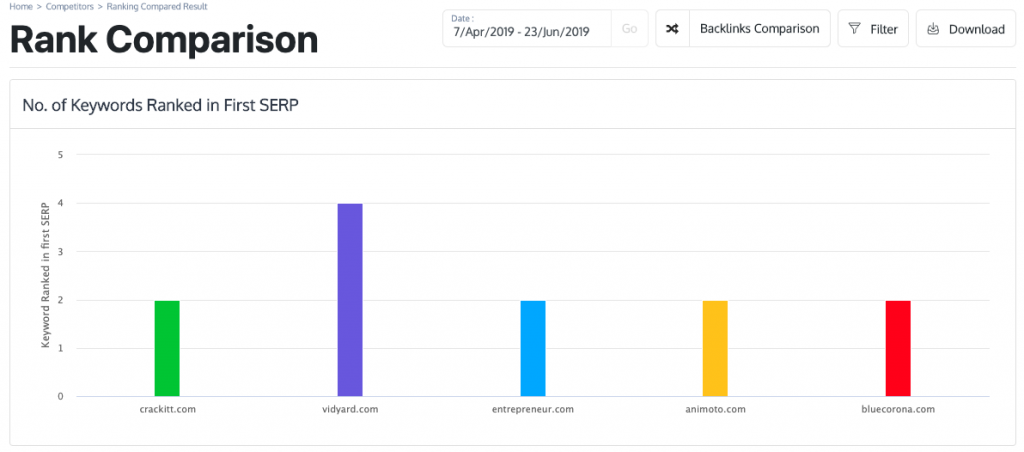 Track their SERP performance
First things first, the rank comparison page has several graphs to give you a quick look at your competitors' performance based on numerous metrics:
Number of Keywords Ranked in the First SERP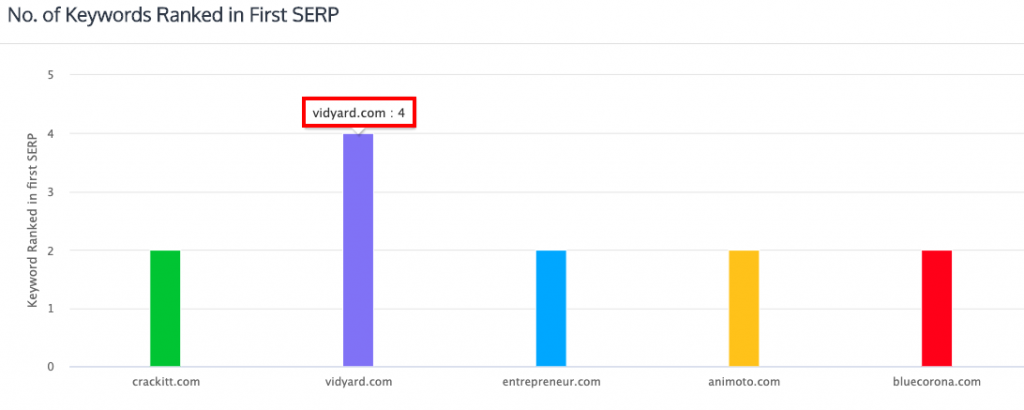 This graph is a visual representation of the total number of keywords for which your site and your competitors' sites are ranking in the first SERP.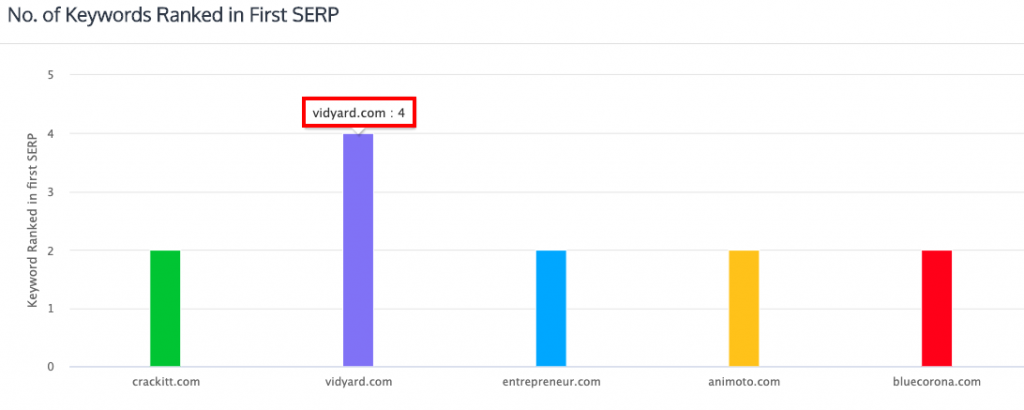 You can see that Vidyard is dominating in this field as it has a total of 4 keywords ranking in the first SERP. And if you scroll down to the end, you'll find what those keywords are and their SERP rankings.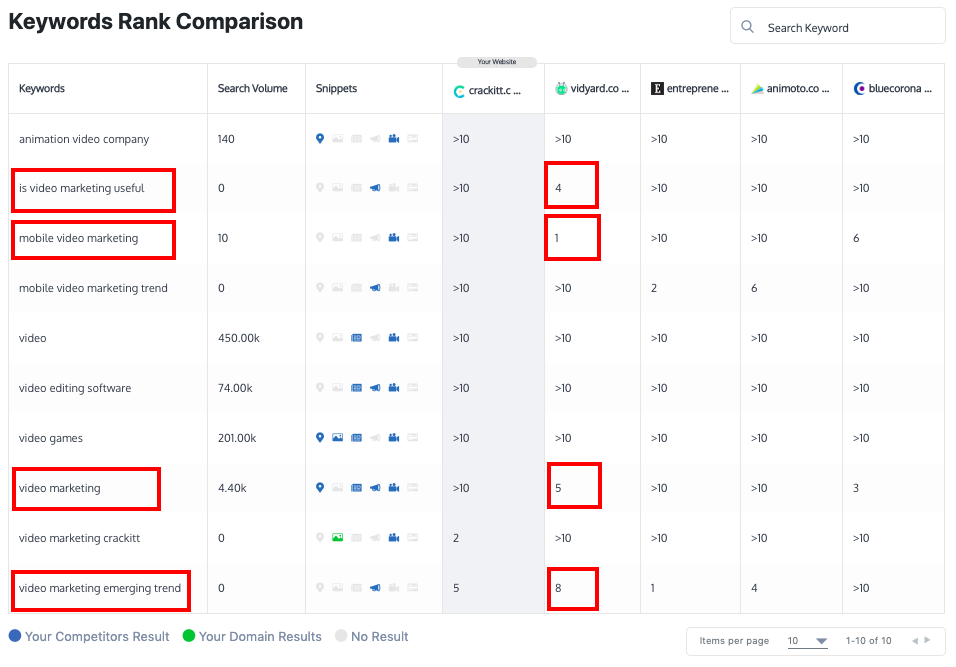 Alexa Rank
What's the purpose of a rank comparison, if you are unaware of your competitors' global ranks?
Under Alexa Rank, you can learn about the global rankings of your domain compared with your competitors'. This ranking is calculated based on the traffic and engagement over the span of three months.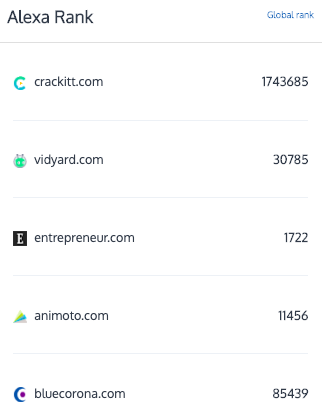 Indexed Pages (Along with the No. of pages)
Next to Alexa Rank, you can find data about the total number of pages of a domain that are indexed by Google.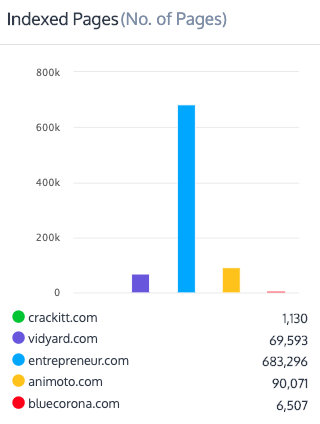 Desktop Loading Speed (in Seconds)
The final metric for competitor rank comparison is the page loading speed of a website.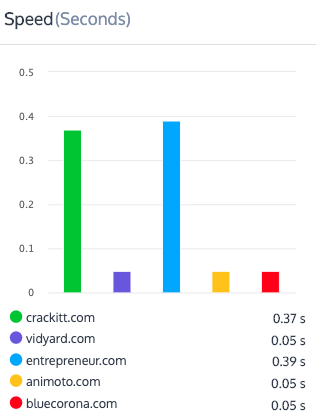 Discover your paid competitor's keywords
Find out about every keyword that your competitor has purchased from Google and every ad that they've run.
Head back to the Competitor dashboard and go to the 'Paid Competitor Analysis' section and scroll down to Ad Copies.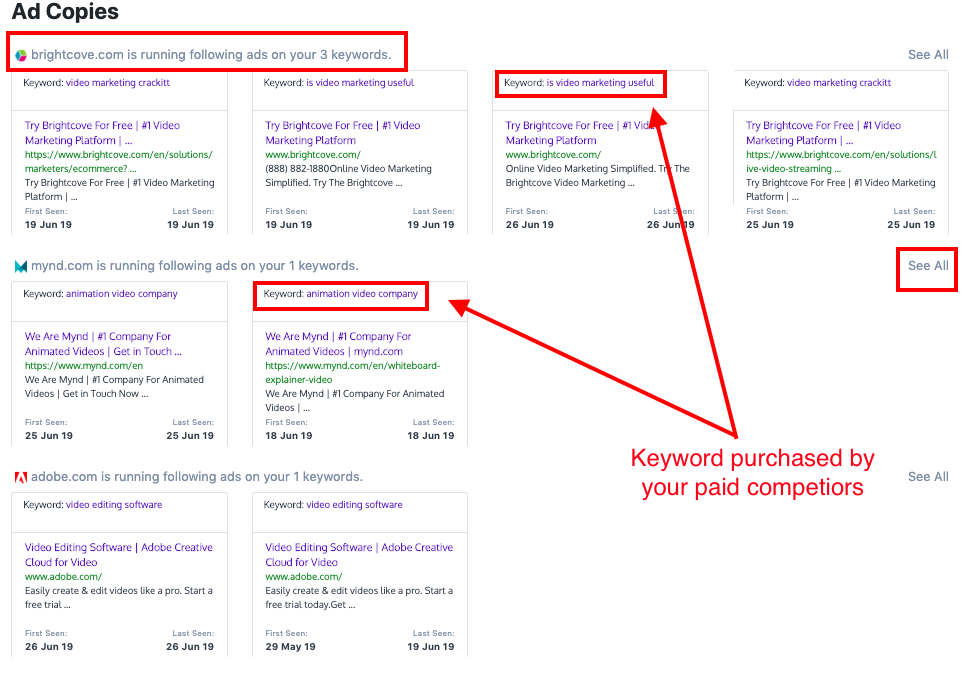 Here you will find all the ads run by your competitors which are also bifurcated accordingly. Also, you can find the keywords purchased by your paid competitors. Plus, you can access more ad variations when you click on 'See All'.
When you are planning to run Google Ads, you already know about the keywords on which you should bid for a higher success rate. 
Explore URL specific ranking data
In the Competitor Analysis module, there's a filter which allows you to analyze specific URLs and find the keywords for which your competitors are ranking.

Seize your competitors' keywords
Now, you are aware of how your competitors are doing. It's time to capitalize on their strengths.
Run Rank Comparison on your leading competitors, explore their keywords, and make a database of those which are leading them to the top SERPs.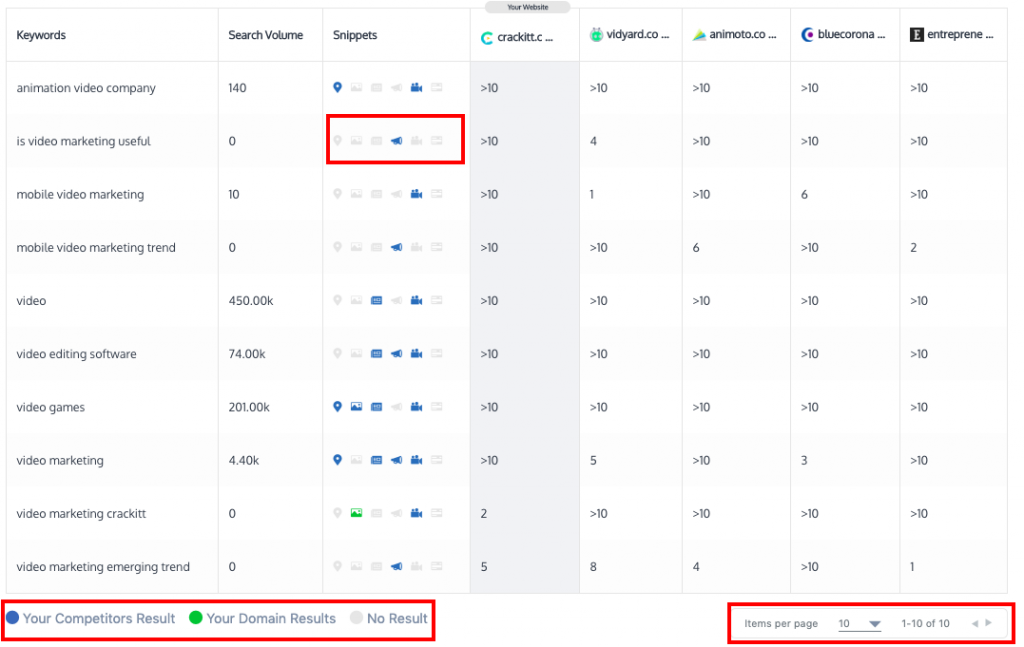 But position is not the only thing that matters. You need to focus on the Search Volume as well. For instance, you can see that Vidyard  is ranking #1 for the keyword 'mobile video marketing' but its search volume is 10. 
You need to create a database of keywords like 'Video Marketing' because it has a 4.40K search volume and the website Bluecorona is ranking in the third position.
There are color coded search snippets as well that provide you with additional ranking information related to the keyword including Local, Image, News Ads, Videos, and Answers.

Blue Icon

represent your competitor results.

Green Icon

represents your domain results.
Apart from that, if you need more keywords to analyze, then you can select 'Items Per Page' (up to 100) or navigate through the sheet.
You can hijack these keywords and optimize them in your content and boost your rankings.
2. Competitor Backlink Analysis
Studying your competitors' backlink profile gives you access to countless opportunities to improve your rankings and search visibility. Through RankWatch's Competitor Analysis Module, you can learn about the domains from where your competitors are getting referral traffic.
To access the backlink profile, head back to the dashboard, select your top competitors, choose 'Backlinks', and click on 'Go'.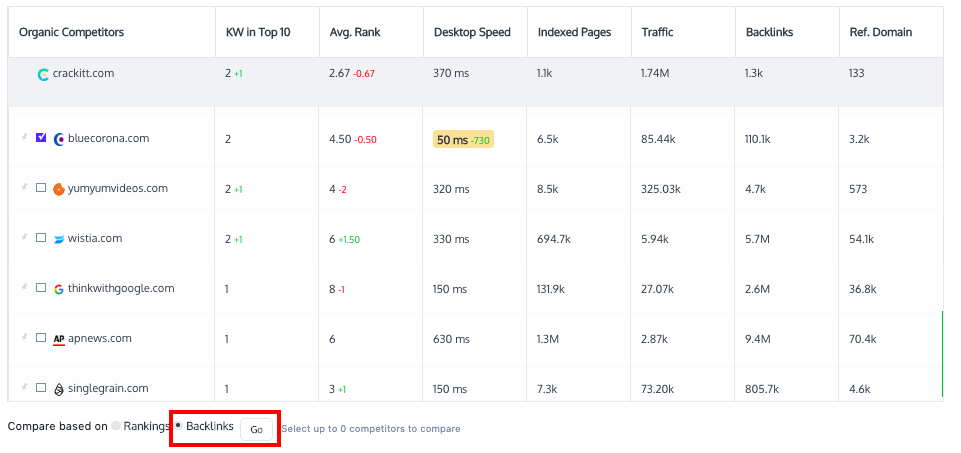 Also, you can access Backlink Analysis from Rank Comparison.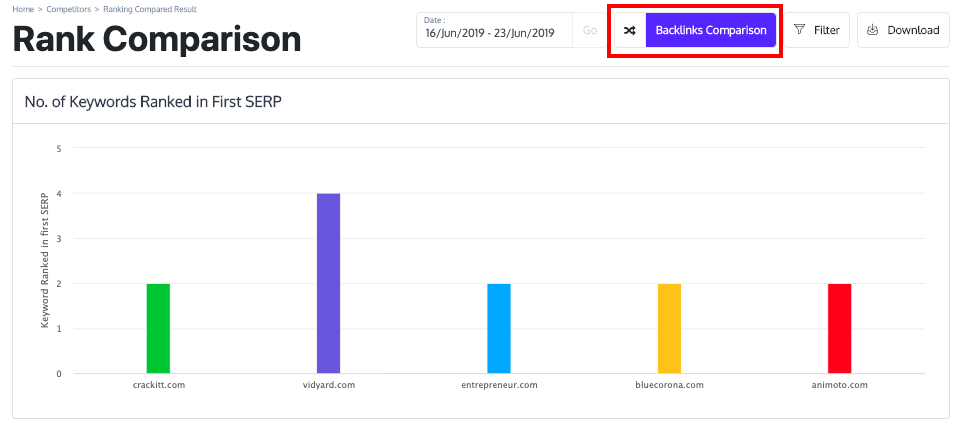 No matter which way you prefer following, you will be facing this page only: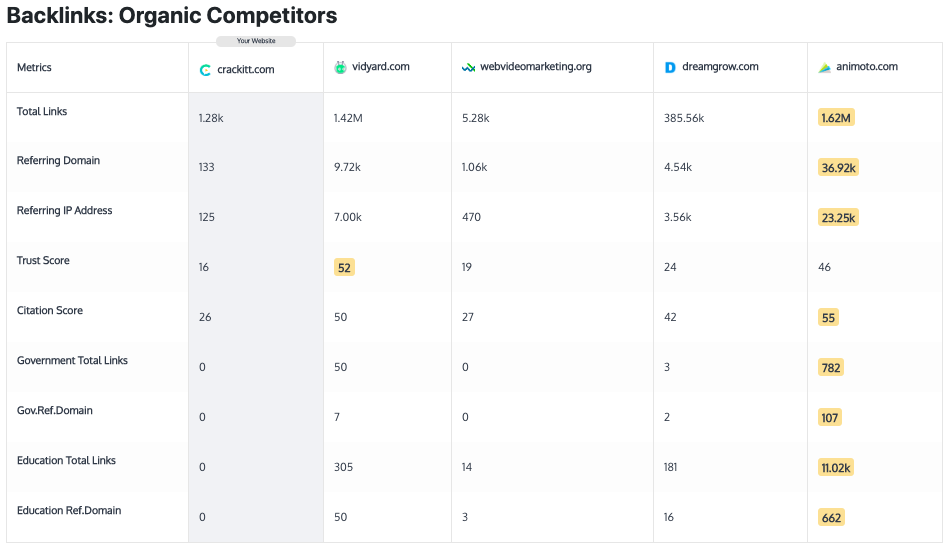 It provides you with the backlink profile of each domain along with the totals links and their bifurcation.
You can get more information related to the backlinks using our Link Explorer tool or Site Auditor.
Generate Quick Reports
You can track competitor data back to the day when RankWatch first started collecting it.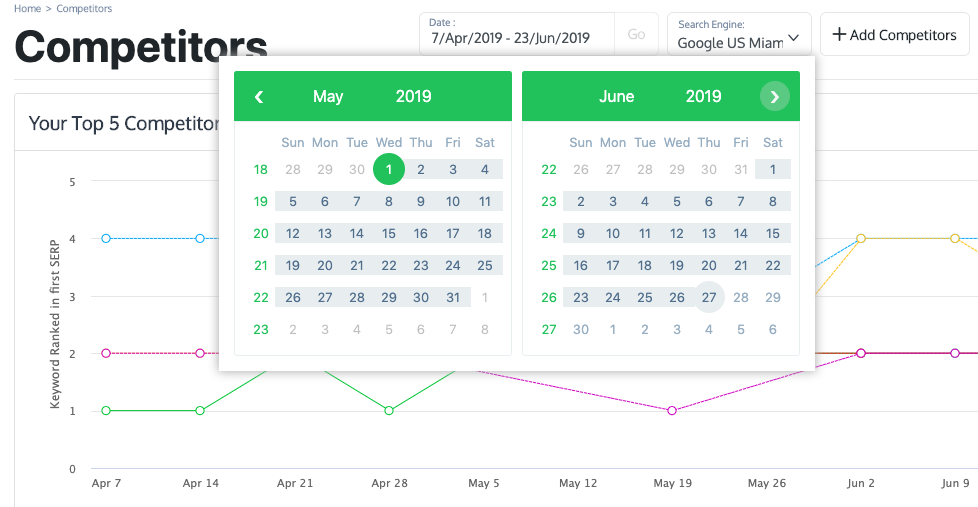 And you can generate quick reports and download excel sheets and PDFs for offline analysis.
Click on 'Reports' in the top right corner.

 This will lead you to the reports page, where you can download the reports conveniently.

Conclusion:
Climbing to the top SERP is a very competitive race and you need to hunt down every competitor if you want to stay ahead. And the Competitive Analysis feature by RankWatch is most powerful tool that you need.
So, when was the last time you ran a competitor analysis for your website?