Article #2.4
Is understanding Searcher Intent really important?
Let's say, Person A googled "Dance". This is the only keyword he typed. What does he mean by it? Does he mean different forms of Dance style, Dance costume, Dance songs, or may be Dance shoes. 
Confused? Bingo! You will be in a state of confusion of how would you know what's the intent of the user who has typed "DANCE" as a query. What is he actually trying to say? What information does he wants related to Dance?
You clearly need to have an insight about what your user wants. What information he wants to retrieve from his keyword? This is where understanding the searcher intent becomes important.
Understanding searcher intent:
Understanding the intentions of the searcher is really difficult. It is exactly like going into the searcher's head and determining what does he wants to say.
Searcher intent is defined as the intent with which a user conducts a search, meaning the information that users are searching for.
A user has only 3 perspective to make a search: 
If the user needs to learn something, i.e. to research or to gain information
If the user needs to do something, i.e. shopping, 
If the user needs to go somewhere, i.e. to simply go to any destination.
A clear understanding of searcher's intent will help the webmaster to create the content accordingly and users will get appropriate answers for their query.
Hence, understanding the user perspective becomes really important.
Trust me without having an idea of the intent of the user, you are going nowhere!
Why is it important to know user intent and how can we identify it? 
Focussing on understanding the intent of the user is not only because it helps in getting conversions or click throughs, it is also important for the SEO perspective and provide value to your visitors. It helps in creating a brand name with trust and accountability.
User Intent is important because:
User intent tells you (a business owner) what your audience is looking for. When you Google any keyword, there are set of suggestions which come while you are writing a search query. This acts as a hint that which keywords are most used and what is the intent of the user.
It gives you ideas for unique keywords. With the help of keyword popularity , we generally tend to limit ourselves and ignore going beyond the search volume count. To get unique keywords, we really need to start thinking from a user perspective rather than from SEO perspective. Once we shift our focus to ''user intent'', we actually get to know what users are actually typing as a search query. 
It charts out clearer demographics. User is very smart, he searches according to his needs and places. The user is mobile and local search friendly. The user's intent is very demographic specific. Moreover, The location based keywords directly indicates what user strives.
It helps you create better landing pages which may lead to conversions.Optimising your landing page is very important. One of the main element of landing page optimisation is conversion rate optimisation.
For the conversion rate, understanding the searcher's intent will increase your conversion rate. In other words, if you are clear with the intent of the user, you can design your landing page according to their needs.
It helps in developing better content strategies. Understanding searcher's intent will help in creating content strategies as it will be much easier to create content which focusses on your audience; This means the content should be created according to the needs, interests and queries of your targeted audience.
It also shifts focus from only SEO to provide a better user experience.The concept of searcher's intent is no new. We have seen the focus shifting from SEO to understanding searcher's intent to provide better user experience. After the release of Google Panda and Google Penguin update, SEOs have started focussing on user experience rather solely on Search Engines.
Identifying user intent is not that difficult. You can identify in different ways:
One way is by using Google itself:
Google needs to generate, maintain and increase its revenue. It can only be done when the searchers uses Google as a Search Engine. The searchers will use Google till the time the Search Engine is providing accurate results to the query entered by the searcher. 
Using Google as a tool for understanding User Intent:
Identify and target the best keyword.
Start searching the targeted keyword.
Check the top 5 results and see the content whose rankings are high on the pages.
Make a note of it; Have a look on the content and see what type of content appears on the SERP for that keyword.
As we know that Google optimizes its results for user intent, hence, this is a way to know what content the searchers are looking for when they make a search for a keyword. Make a note of the things that you can implement in your content.
Google is one of the ways to identify User Intent. Other ways have been talked about in the earlier sections of the article.
Interestingly, Your Customers are searching their query in four different ways :
Starting with keyword research, wait! It's better to initiate with the searcher and see what are the different ways, the potential customers search their query:
Navigational Queries
These are direct search queries made in order to find the website of a particular brand. The user might not know the exact URL hence may make a search using the brand name. For example, 'check in for my Indigo flight' or see what are Apple's latest products or 'HDFC net banking login', etc. 

Informational Queries
The goal of such queries is to get information about a topic, a subject, a product or service. They do not involve any transactions. Informational queries are usually queries like information on-  local weather, maps, directions or information about something. 
Transactional Queries
Any query that involves a current online transaction example, paying a bill online or any query that could or could not involve a transaction later example, finding a restaurant for dinner or making a dinner reservation online or signing up for a Gmail account, subscribing for something online, etc are all transactional queries.
According to the research done by Pennsylvania State University and Queensland University of Technology more that 80% of the searches are Informational and only 10% of the searches are navigational or transactional in nature.
Commercial Queries 
These queries involve a transaction after finding some information. These are informational searches that lead to a commercial transaction. For example, if a user makes a search query for 'shop shoes online'. This search may lead to a commercial transaction online.
Now we have an idea about the different kinds of queries made by users. Based on the types of queries we need to know the search terms the user is using to conduct a search.
Find out, what search terms are your customers using?
You as a business owner need to get inside the head of a user and think from his point of view. You need to think that as a user what will be your intent when conducting a search. All the time, it is not possible to think from the user's perspective. Hence, here are some simple ways in which you can find out user's search queries:
There are two ways where you can actually check: Manual and Automated 
Manual:
Website search bar - You can find out the same by tracking the keywords that users are typing in the search bar on your website. You can get a nice long list of keywords from there. Find out the information your users are searching for. Do you provide that information on your website? Is your website giving the users all that they are looking for? Ask yourself these questions.
Moreover, you can find the keywords by using keyword a , keyword b formula, i.e.when you type keyword a on search bar, you will come with various keyword suggestions related to the keyword.
The search bar you are seeing, is only available on Mozilla Firefox.
Website - On your website if you have a community forum or a help center check out the questions being asked there. What questions are asked most frequently? Make a FAQ list of those questions. You can get an idea about keywords from here as well. 
Social Media and Internet Forums - Apart from that you can check the words users are using on social media and internet forums. You will get an idea of the keywords being used by the users from the kind of comments they make or from the kind of questions they ask etc. For example, if you go to board reader forum and type your keyword , you will get the keywords related to the searcher intent.

Sales Team - You can also check with your sales team. They have a direct interaction with your customers. They will be able to tell you about keywords that customers use while asking them questions to find products. 
Set up a Site Survey - You can find out by setting up a site survey. Get the reviews by getting a feedback form filled or what keywords did they use for reaching to the website and from where did they got the reference for the website .
Automated :
RankWatch: SEO management platform : You can make use of RankWatch Tool. Just insert your words and you will get the keyword suggestions right in front of you in the bottom right corner.
The keyword used here was "buy t-shirt", and you can see the keyword suggestions to it.
Google Keyword Planner- You can make use of the Google's Keyword Planner Tool that comes with a free adwords account. Here you can check out keywords related to your business that have a high search volume and make use of them. 
The above image shows the keyword searched "Used Cars". In return, it gives more ideas of the keywords.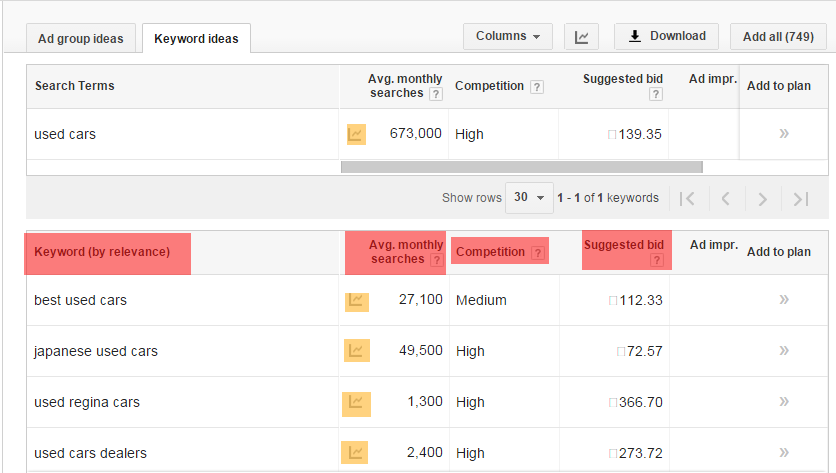 Be Ahead of the game, know your User Intent or else your keyword strategy is a waste!
If you know your user intent, you will anyday be ahead of the game.
Most of the SEO professionals have an idea about user intent, but it is used by very few. User intent is a key to success, leading to better conversion rates, leads, sales and clickthroughs.
Long Tail Keywords- A better way to reach out to your audience!
Long Tail Keywords are long and very specific keyword phrases that the customer generally uses when he is nearing his purchase stage. Trying to rank for very broad keywords like 'furniture', 'online shopping' is a very difficult task. In fact if you know how to optimize long tail keywords, you can get good rankings on SERPs. They are less competitive to optimize for.
For example, if we optimize for long tail keywords like- 'best pizza parlour in Chicago', 'Best hotels in Denver' or 'Best Clubs in Miami' we are sure to rank better on SERPs. This also narrows down our competition online. Plus, Long tail keywords convert better because people will get precise results for what they are looking for.They will know what exactly they want. Hence, they will have more desire for your services. Also ,increasing the conversion rates.
https://www.pinterest.com/pin/467881848759753543/ 
Steps to identify the correct user intent for a website owner!
Focusing on user intent can help you as a business owner to optimize content based on 'intent' unlike before when you were optimizing content solely for SEO. It can help you build content marketing strategies around intent.
Optimize existing content- You already have content on your website. You also know how to find a new list of keywords. Using your new list of keywords you can tweak your content and optimize it based on user intent. Start with your most important pages first.
Understand Intent- Think from a searcher's perspective. Think why have they landed on your site or a particular web page? What sort of information are they hoping to find from your content? Understanding user intent helps you improve areas of your content. Who knows you might also find new opportunities to attract more traffic!
Trust- Building trust in the customer through your content is a must. Focusing on user intent helps do it. We write content for our audience. Until our audience trusts our content it is of no use. Trust helps get exposure for your brand. Use trust building words. Follow up what you say with facts. 
Adjust as required- After a week since you tweaked your content go and check the kind of traffic it is getting. It gives you an idea about what worked and what didn't. You can now make the changes and adjust the content accordingly.
Conclusion

I would like to conclude by saying that understanding searcher intent really needs efforts as you are actually getting into the minds of the searcher to get the basic understanding of what they mean. Successful understanding will not only create the trust of the user on you but will also increase the traffic, sales, conversion rate and Clicks. 
Keep "User Intent" in mind and you are Done!