Article #2.12
The ever debated question: Are meta keywords really important?
Well, let me give you two contradicting facts:
Google does not use meta keywords in its ranking factors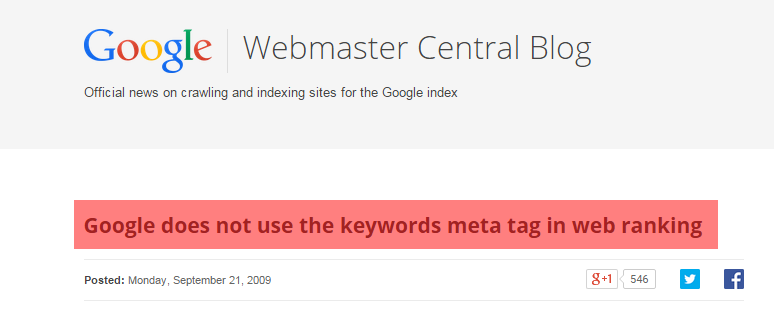 As you can clearly see, Google on September 21, 2009 posted on their official blog stating, that they would not include Meta keywords in their parameters which, they use to determine rankings on the SERPs.  
Wondering why is Google so adamant regarding this? Well, may be because they are smarter than you think! Way back, Google judged the websites on the basis of content of the web pages, rather than focussing on the so-called 'off-page factors' such as backlinks to a page. This gave webmasters the liberty of stuffing irrelevant keywords in their meta tags, without typical visitors ever seeing those keywords. So, Google had to take out their stick and give the punishment. This announcement was a retaliation for that. Bottom line: You don't mess with Google!   
 
70% of the respondents said that they always use meta keywords. But, not a single person replied 'seldom' or 'never'
Confused? Let's solve your issue.
 
Wait! Before jumping to the conclusion, do you actually know what are meta keywords?
Though meta keywords are not a major factor Search Engines consider, but they shouldn't be let off the page totally.
Meta keywords tag is simply an HTML code of a webpage, which includes the most important keywords of a page.
If you have ever looked at its coding, it would somewhat appear like this:
<meta name="keywords" content="serp tracker, grank tracker, rank tracking, online rank tracking, rank tracking online, seo management, search engine rank tracking"/>
The part highlighted in red shows the Meta Keywords Tag of www.rankwatch.com . A meta keywords tag format is-  <meta name="keywords" content=""/> The quotation marks "" need to be filled with all your keywords. In the above case the keywords are-
"serp tracker, google local rank tracking, rank tracker, rank tracking, online rank tracking, rank tracking online, serp software, seo management, seo management platform and search engine rank tracking"
You should make sure that the meta keywords list of your page should contain the most unique and important keywords (basically, avoid fluff). Start by scanning your page and making a copy of all the important keywords you come across. Skim through that again, and narrow your list down to 10-15 keywords. Although there is no specified limit of the keywords you could use in the list, but don't stuff just for the sake of it. It won't get you higher rankings.
 
Google doesn't take meta keywords into account, but SHOULD YOU?
People started adhering to such practices of 'keyword stuffing' way long back. Hence, Search Engines stopped giving the keyword meta tag importance in the late 1990s itself. 
You can or cannot use the meta keywords tag, the choice is yours. If you do use make sure those same keywords are present in the content on your web page.
Now, if you look from Google's standpoint- they completely acknowledge the fact that they don't take meta keywords into perspective.
Bing, on the other hand, admits that it considers meta tags as a ranking parameter, although it does that for finding spammers more than it does for improving rankings. So, if you don't do it right, you might run a risk of them being used against you as a negative ranking factor. 
Additionally, Yahoo takes the meta keywords into account too. They say that Yahoo still indexes meta keywords in its ranking parameters, however the importance given to them is the least. Yahoo uses bing now. 
So you see, that apart from Google, the other two major Search Engines take the meta keywords tag into account. But, if you use it, be very careful as any improper or spammy use will most likely hurt you or may even get your site spammed with Bing. To simply put it, you are running more of a risk than a benefit using meta keyword tags.
 
Decided to use meta-keywords tag? So, we are here to help you do that!
How to use meta keyword tags?
You can use the meta keywords tag in the source code of your website. Fill it- <meta name="keywords" content=""/> with relevant words. 
Add words that you want your site to be found for. 
Try not to use more than 4-8 keywords. 
Remember, Search Engines index the first few keywords only. So, no point doing keyword stuffing.
 Use keywords in the right way even if the benefit is little, because otherwise it will have very bad negative effects. 
Since the keywords might slightly differ from page to page, it is advisable to add the meta keywords tag separately for each page. This shows the Search Engines what content is specifically there on each page. It might seem like a lot of work but it helps.
 
Tips from our end to help you with Meta keywords 
The keywords you use should have relevance with the content of your page. So, don't use more than 8 meta keywords or your content will not appear natural. When selecting your keywords for your meta tags it is good to keep in mind:
Include misspellings in your meta tags. This indicates to the Search Engines that your content is also relevant to the misspelled search queries. This way you will not have to include misspellings in your content on the web page.
Include long-tail keywords. These are more specific variations of the keywords. These are like small phrases.
Check what words your competitors are using and think from the searcher's point of view. Check what words or phrases, are users using to search your business online. Make a list of these words and pick the ones you find important. Include these words in your keywords meta tag.