Article #2.6
Is Domain age an important factor?
There has been a lot of debate in the area of domain age lately. The domain registration date has attracted a lot of questions through webmaster forums. 
Is it important or is it not? Should you give your valuable time considering this? Let's find out
 
Google's patent 'Information retrieval based on historical data say:
Let me clear your thoughts on this, as suggested by WebmasterWorld 
Google uses the date that a domain with which a document is registered may be used as an indication of the inception date of the document.

Certain signals may be used to distinguish between illegitimate and legitimate domains. … Valuable (legitimate) domains are often paid for several years in advance, while doorway (illegitimate) domains rarely are used for more than a year. Therefore, the date when a domain expires in the future can be used as a factor in predicting the legitimacy of a domain and, thus, the documents associated therewith.
A very important point in this discussion should be that Google had become a domain registrar but did not open the option for people buying domains from them. An obvious conclusion of it would be that Google had the intention of checking the spam by getting a more direct connection to expired domains. 
Here are some lines, quoted from Domain Name Wire:
"Google originally became an ICANN-accredited domain name registrar with little intention of offering domain names to the public. Instead, it wanted to use domain name data to improve its search algorithms."
I guess, this does prove you that domain age is important for Google and is a part of its ranking algorithms.
Generally Well established and reputed sites have old domains. Now, if you say this the other way round (how most people take it), sites with old domains are well established and better.  
Spammers register and drop domains really quickly, so this is how a newly registered website has a greater chance of being used for spams. 
So the bottom line, that could be extracted from the above discussion of this is that, even if you were holding a legitimate website but are on a newly purchased domain, there might be some chances that the Search Engines would look at you suspiciously and would like their users to stay away from your website.  
 
How long have you been around the internet? Has Google indexed you already? 
The question comes back again- Is domain age an important factor to consider? I think the short answer to this should be yes, though it still is a debatable issue. No matter how small weight it has, but the essence is that it does have some teeny tiny role in the ranking parameters of the Search Engines.
How long have your domain be around? For how long has Google indexed it? These questions are two different parts of the story.
Just in case, if you are not aware, let me tell you that the domain age is not referring to how long have you have owned a given domain name, but instead for how long Google has indexed it for the first time, pr has seen the link for the first time. So even if a site is registered for 10 years, it does not mean that Google considers it 10 years old; it needs to be indexed by Google first.
Now comes up another question, a site which is there for 3 years or a site which is there for 7 years? Which is better in the eyes of Google?
Let's have a look at the following comment from some guy in one of the forum threads, Does domain age matter for SEO:
"Off the bat I am going to say yes as we had 2 x domain names which were both 7 and 3 years old respectively. The 7 year domain name hadn't actually been used for webhosting and the 3 year one had been running for the 3 years advertising our products. I fired up the 7 year domain name with exactly the same content as the 3 year. To my surprise the 7 year domain name hopped right over the 3 year in keyword rankings. Basically for every keyword the 7 year got to the 1,2 or 3 page. The 3 year was lagging in all categories. I stipulate that the 7 year had no backlinks and the only thing done to the site was some SEO for keywords etc. The 3 year site got the same SEO update treatment."
I guess, you somewhat got the answer. But, then we have no reason to trust the guy. This leaves the doubt again, right?
But if you go by my opinion, I think you really shouldn't bother yourself with this. Domain age does play a role, but a very small role.
 
Looking forward to checking the Domain Age of your Website?
If you want to check the domain age of your website, there are plenty of tools available. This is one right here for you. The best thing about this RankWatch tool is that the limits you could put on this is higher than other tools. A perfect domain age checker for you.

Buying your preferred domain name made easy through Freshdrop!
Just in case you aren't aware, Freshdrop.net is a website which has a directory of all the domain names that are about to expire with their respective ages, age, page ranks, bid price, Google listings, backlinks etc.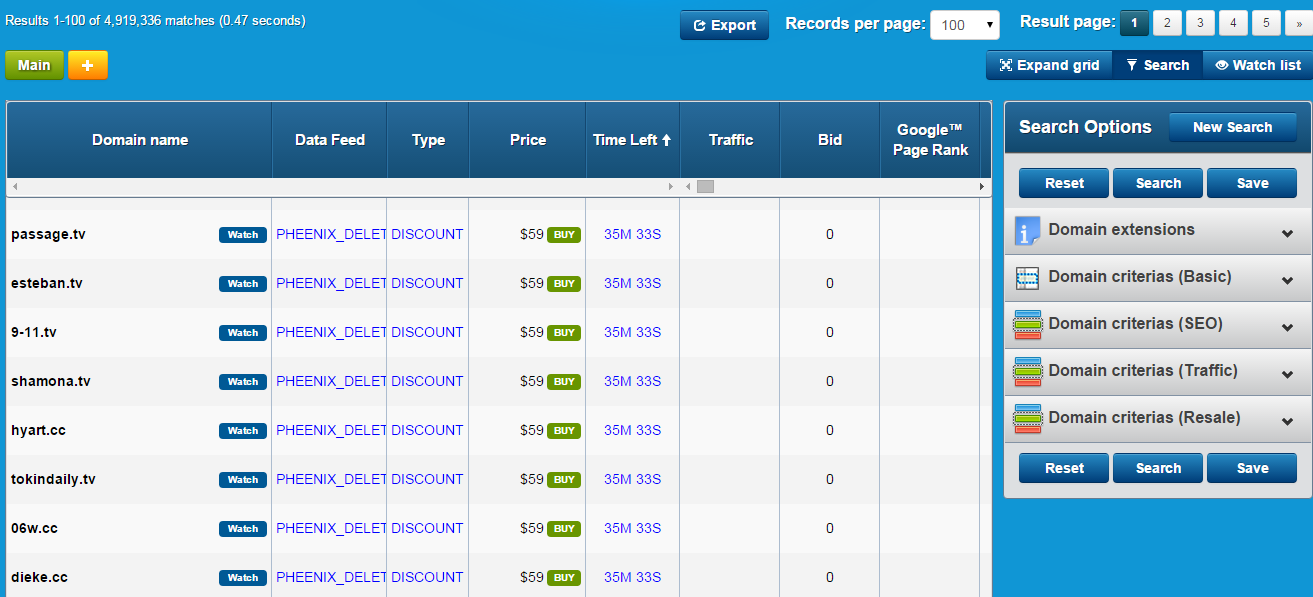 This website brings in all the website domains that are about to expire, from the domain registrars and conducts an auction of them. This way you could easily buy a domain name according to your preference (i.e, if you want a high PR domain). Now, if suppose you want a domain name that has a high PR, but you don't like it's name, you could still buy it an 301 redirect it to the domain name that you like.
 
So, should you bother with the domain age?
As already discussed, I am of the opinion that you should not be totally concentrating on the issue of domain age because registration date cannot totally ensure about the trustworthiness of a website. For example, a domain name can be used for illegitimate purposes for a long time (say, 10 years) and then sold to a good company without any change in the registration date or maybe a new domain is used by an already highly established company (and 301 redirected to the new domain).
Moreover, Google supposedly uses domain age to differentiate between legitimate and illegitimate websites. The logic behind is that legitimate sites are paid for over years. Someone who is actually posting quality content will want to protect their brand by registering their domain for several years. This ensures that their domain does not expire and fall into the wrong hands. On the contrary, illegitimate domains are hardly used for more than a year. Spammers often jump from domain to domain not bothering to register a domain for more than a year.
Let's hear the Man of Google speak

-pnpg00FWJY


Bother more with the content and the backlinks
Concentrate on the website age and its backlink age profile. Spend time in optimizing your content, building a natural backlink profile, altering your Meta tags to a Search Engine friendly manner, working on the heading tags, working on the URL optimization, because these are the factors that will get you rankings.